350L Fixed Type Vacuum Homogenizing Emulsifier
This machine is suitable for cosmetics factory, pharmaceutical ointment, Cream category products production, Especially it is more efficacy for high viscosity matrix and high content of solid to emulsify and mixing.
Click details
Fixed Type Vacuum Homogenizing Emulsifier
Vacuum Homogenizing & Emulsifying is indispensable equipment to paste honey and is a very useful experimental tool in a cosmetic factory with complete function and high quality. The product is mainly applied in such industries as daily chemical care products, food industry, paint and ink, petrochemical industry, printing and dyeing auxiliaries, pulp&paper, pesticide, fertilizer, plastic&rubber, electrics and electronics, fine chemical industry, etc.
Click details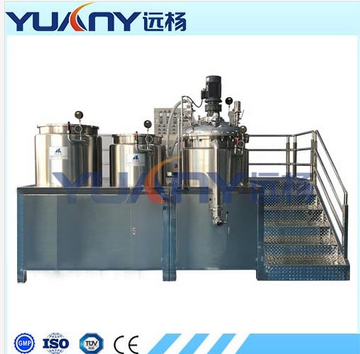 500L Fixed Type Vacuum Homogenizing Emulsifier
Fixed Type Ointment Cream Internal External Vacuum Homogenizer Emulsifier is professionally designed according to the ointment manufacturing process of cosmetics and ointments etc. products through introducing advanced technology from abroad. The machine unit is composed of a pre-treating boiler, vacuum emulsifying and blending boiler, vacuum pump, hydraulic system, dumping system, electric control system, and work platform etc.
Click details