Internal and external circulation vacuum homogenizing emulsifier
Horizontal spiral powder mixer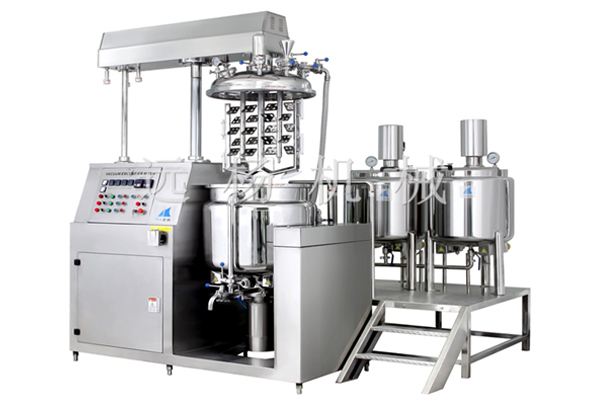 Internal and External Circulation Vacuum Homogenizing Emulsifier
Use
The internal and external circulation vacuum homogenizing emulsifier is high quality product newly researched and developed by our company through combining advanced international and domestic technologies. It is suitable for producing materials of high viscosity such as foundation, cream and toothpaste, etc. Its prominent feature is that the internal and external circulation homogenizer can make the materials work under the homogenizing status of internal circulation so as to achieve the effect of completely emulsifying the materials.

Capability & Characteristic
1.High disposing capacity with continuous operation. The materials can be discharged through circulation and homogenization. It is especially suitable for continuous treatment of products of single variety.
2. Simple operation and better emulsifying and homogenizing effect.
3. Water cooling type sealed structure for homogenizing conquers the problem of material leakage under ordinary sealing.
4. The homogenizing effect of the homogenizer under the working status of internal circulation equals to that of vacuum machine. Under the homogenizing status of external circulation the materials are sucked in from the bottom of the boiler and pass through the homogenizer. Under the dispersing and centrifuging effect of the homogenizer, the materials are sent to the top of the boiler through special pipe so that they can be homogenized repeatedly. The homogenizer can make the materials reach an emulsifying capacity of 3 times/minute under high speed homogenization.
Technical Parameter
Specification

Working Volume(L)

Heating Method (Optional)




Dimension (L*W*H)(m)

Weight(Kg)

HY-50

50

Electric heating or steam heating

2.6*2.4*2

650

HY-100

100

2.8*2.5*2.2

850

HY-200

200

3*2.8*2.3

1100

HY-500

500

3.3*3*2.5

1500

HY-1000

1000

4.2*3.5*3.8

2500